You are not just your knee, you are not just your elbow. You are an entire person who deserves to have your injury explored to its entirety, which extends beyond the one body part for which you are seeking treatment! At Mountain States, we treat the "whole person" to ensure your injuries will heal completely and avoid recurrence in the future. Our skilled physical, occupational, and speech therapists are all highly trained and have specialty certifications, which allow us to provide you with more specialized and efficient treatment. All of our treatments are one-on-one with the same therapist to ensure consistency of care. Come in and see us today!
Following surgery, you always have a choice as to where you go for your physical therapy treatments. We will work closely with your surgeon to help you recover safely and efficiently. Our therapists work one-on-one with you and your treatment will never be handed off to an assistant or aide. Our therapists are all experienced in working with a wide range of post-surgical clients ranging from total joint replacements, back surgeries, and rotator cuff repairs to knee, ankle, and foot reconstructions.
According to the CDC, chronic pain is the most common reason people access the health care system. This pain can limit your ability to complete daily tasks such as self care, home duties, or job requirements. Our therapists will work with you to identify ways to eliminate or lessen the impact of pain on your daily life through a variety of manual therapy techniques, therapeutic exercise, and activity modifications. We take a compassionate approach seeking to understand the impact of pain on your specific circumstances in order to tailor treatment to your unique needs.
Car accidents are a common cause of injury that can lead to long-lasting pain if not managed correctly. Our therapists are experienced in managing all stages of recovery - from the first few days, to the chronic symptoms that can linger if not properly addressed. In situations of neck or back injury, we seek to regain spinal stability so that pain does not become a recurrent problem in the years to follow.
Many of our therapists have received advanced training in dry needling. For this treatment, a thin needle is inserted into a trigger point, or knot, to help it relax. In addition, this technique can be used in conjunction with electric stimulation to help an under active muscle function more effectively. This can be an efficient way to manage pain, increase mobility, and restore function.
Most Americans will experience low back pain at some point. In most cases it can be effectively managed with conservative care such as physical therapy. Our approach combined manual therapy techniques with therapeutic exercise and other treatment options as needed to resolve your pain. We also seek to educate you on how to manage the pain during daily activities so that you can recover as quickly as possible and prevent future issues. 
At Mountain States Hand and Physical Therapy we can make you semi-custom orthotics to assist with foot, ankle, and knee problems. This can be a cost-effective way to improve alignment to support an irritated tissue or normalize movement at a joint.
Injuries to athletes are common and returning to sport too soon puts you at increased risk for injury. We can assist you in recovering strength, stability, and agility as you prepare to return to your sport of choice. We use standardized tests to help make the decision as to when you're ready to get back out on the field in order to reduce your risk for a secondary injury.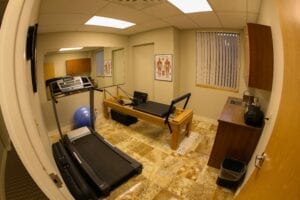 Vestibular rehabilitation therapy is designed to improve symptoms of dizziness, vertigo, and imbalance associated with inner ear disorders.
Vestibular therapy can treat conditions such as:
Benign Paroxysmal Positional Vertigo (BPPV)
Vestibular hypofunction
Labyrinthitis
Vestibular migraines
Menieres disease
Persistent Postural-Perceptual Dizziness (PPPD)
Concussion
Mal de Debarquement
Some of our clinicians have received specialized training in vestibular therapy to expand their knowledge in the treatment of vestibular conditions. We will work to develop an exercise program to improve gaze stability, balance, oculomotor skills, and gait. Our goal is to improve your quality of life by decreasing dizziness and reducing your risk of falls with everyday activities.
LSVT BIG is a treatment approach that is specifically designed for people with Parkinson's disease and other movement disorders. The LSVT BIG program focuses on the performance of large movements for the whole body in order to improve strength, flexibility, balance, walking, and overall function. We have clinicians who have taken advanced coursework to be Certified LSVT BIG practitioners and can speak to the success of this program. For additional information, go to www.lsvtglobal.com.
TMJ 
Fall prevention/balance